So often our beautiful game is marred in controversy and this summer's World Cup has been unable to escape the drama. Despite being officiated by the World's best referees, and the introduction of goal-line technology, the words 'decision' and 'rubbish' have not been too far from the lips of football fans since the opening match of the tournament.
Pundits waffle on so frequently about referees having the 'hardest job in the world' that it is almost a cliché in its own right – but they are correct. In a modern football world where players throw themselves to the ground, scythe down their opponents and stick out an arm to stop the ball going into the net, mistake are bound to be made.
Officials can sometimes be excused, as there are only three pairs of eyes available to spot something, though not in the case of South Africa 2010 when Frank Lampard's goal against Germany was not allowed to stand despite being two yards over the line. But these mishaps, granted not as horrific as the Lampard decision, are becoming more common and those on the pitch are doing little to help things.
Footballers on the pitch and managers on the sidelines are pushing the boundaries further and further in order to get decisions in their favour. Diving, for example, happens a lot a club level and sadly the frustrating habit is carried over, and some, onto the international stage.
Whether it be the diving, handball, cynical fouling or even taking a few drugs, the dark side of
football often comes to the fore at a FIFA World Cup.
Here are the 10 biggest cheats at World Cup finals, and they almost certainly won't be the last…
10. Thierry Henry vs Ireland 2009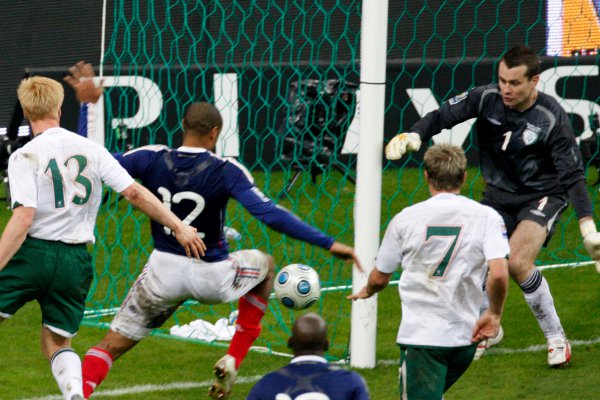 Though this wasn't actually at the World Cup finals, it almost certainly cost Ireland their place at South Africa 2010.
France won the first leg of the play-off 1-0 in Dublin but Robbie Keane's 33
rd
minute header in Paris forced the match into extra time.
Ireland were looking the stronger side before Henry patted the ball back into play at cut the ball back for William Gallas to make it 2-1. The Frenchman knew that his act was so outrageous that he even
admitted it to Ireland defender Richard Dunne – after the full-time whistle, mind.
So France progressed to the World Cup but thankfully some justice was done as they returned home after the group stage having only collected one point.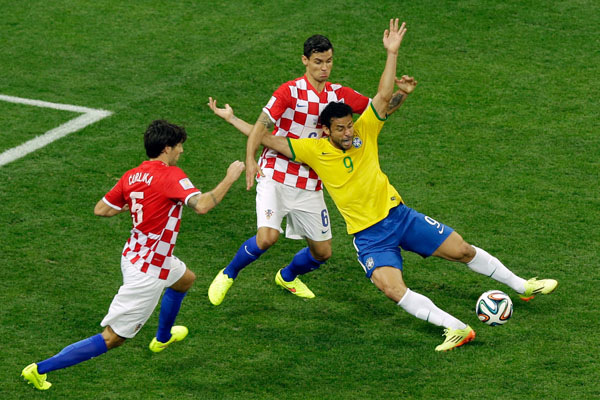 What better way to open the 2014 World Cup than with a dive?
With hosts Brazil drawing 1-1 with Croatia in the opening match of the 2014 World Cup, Fred was the man to oblige. With his back to goal, the striker received little more than a finger on the shoulder from Croatian defender Dejan Lovren. Fred, though, flung himself backwards and won his team a penalty. Brazilian whiz-kid Neymar duly converted it, just, and the hosts would eventually go on to win the match 3-1.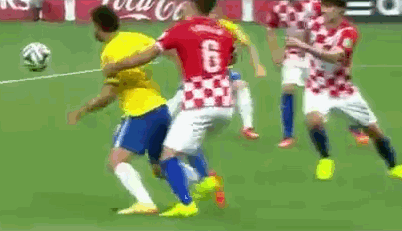 Afterwards Croatia manager Niko Kovac said that Brazil may as well be presented with the trophy straight away if referees continued to be so biased towards them. In truth, the dive was not as shocking as many others but it was a shame that the tournament had to begin with a moment of controversy.
8. Arjen Robben vs Mexico 2014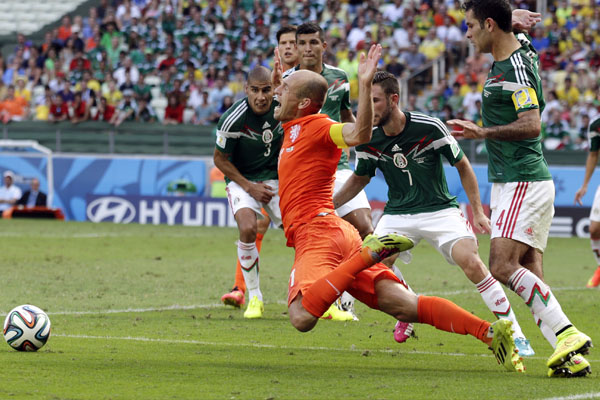 Robben has certainly earned himself a reputation over the years for struggling to stay on his feet, even if there is only a light breeze.
Well known to the British public following his days at Chelsea, the Dutch winger has been enjoying a superb World Cup. He grabbed two goals during Holland's 5-1 trouncing of Spain in their opening match and is being touted as one of the players of the tournament. Sadly, though, some people struggle to stay out the spotlight for the wrong reasons – and he may be one of those.
Wesley Sneijder had just thumped Holland level in their last 16 tie with Mexico in Fortaleza and the game was entering stoppage time. Robben then cut into the penalty area and went down under a challenge from veteran defender Rafael Marquez. Replays shown that contact, if any, was minimal and team-mate Klaas Jan Huntelaar fired the resultant penalty into the net.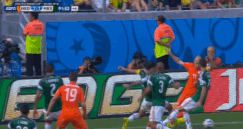 Their late comeback was complete and Robben's antics meant that Mexico headed home at the last-16 stage for the sixth successive time.
7. Jurgen Klinsmann v Argentina 1990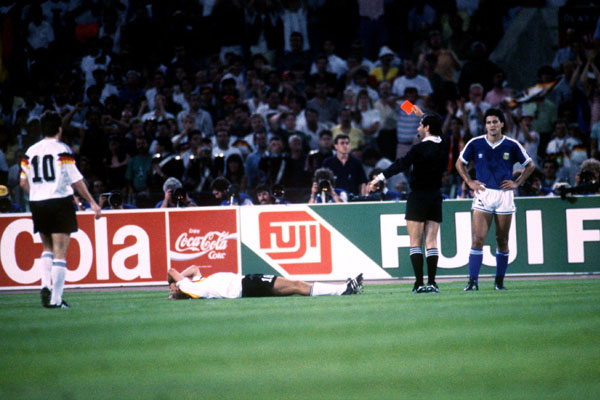 The German striker arrived in England with a reputation for going down easily, and not just when celebrating a goal. Whenever he hit the net for Spurs, Klinsmann would throw himself to the ground in a diving motion to mock those who called him a cheat. But the forward was never too far away from a bit of diving-related controversy.
When West Germany played Argentina in the 1990 World Cup final in Italy Klinsmann used his 'skills' to give his side the edge, en route to their 1-0 victory. As he was fouled by Pedro Monzon, Klinsmann hurled himself into the air before rolling around more times than a rolling pin on a bit of dough.
The defender was red carded and Germany went on to win their latest World Cup.
6. West Germany vs Austria 1982
This incident was so shocking that it led to FIFA changing the format of the World Cup finals.
West Germany were surprisingly beaten 2-1 by African nation Algeria and needed a result to qualify through the first group stage. The World Cup schedule, though, meant that Algeria played their final group match 24 hours before Germany were due to take on Austria. Therefore the two nations knew that a 1-0 win for the West Germans would send both nations through – at the expense of poor Algeria.
And guess what happened? Of course it did. Germany won 1-0 thanks to a tenth minute goal from Horst Hrubesch and, other than that, goal-mouth action came at a premium.
FIFA then decided that final group game matches should be played simultaneously – a rule that is still in place now.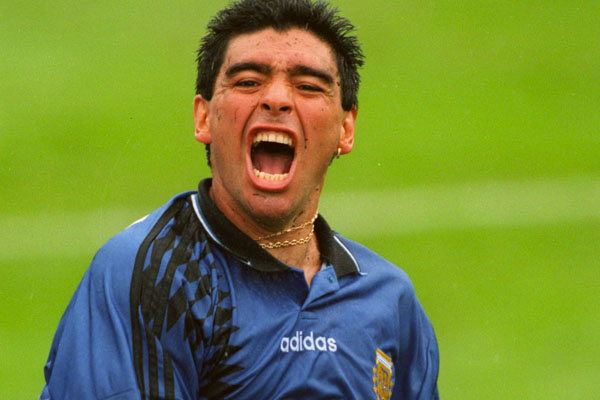 We all secretly knew that something was up when he screamed down that camera lens. Maradona was always one to silence his critics and he looked to have done so again when he made a stunning comeback at the 1994 World Cup in the USA.
Labelled as too old and injury prone, he had eyebrows raised when he displayed his silky dribbling and balance in the group stages. He then thumped one into the top corner against Greece and it was when he celebrated by screaming down the camera that eyebrows were against raised, but for a different reason.
He took to the field again in their second group game against Nigeria, again playing like his former self, but that would prove to be his last appearance at the finals. As suspected he had taken a little something to help get him into shape, and he tested positive for ephedrine before their final group match against Bulgaria.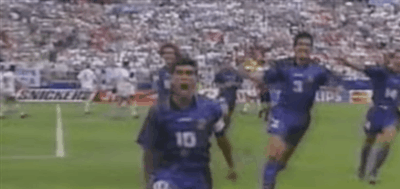 Don't be surprised if Diego Maradona appears on this list again…
4. Harrald Schumacher vs France 1982
Ouch. The word cynical was invented for this type of incident.
With France probing to win their first ever World Cup, Patrick Battiston latched onto a through ball from Michel Platini and was bearing down on goal. As he prepared to shoot wide, German goalkeeper Schumacher came racing out of his goal.
The stopper purposely smashed into Battiston and knocked him unconscious with two of his teeth also falling out. The Frenchman, who required oxygen on the pitch, later slipped into a coma and suffered permanent damage to his back.
Incredibly dutch referee Charles Corver only awarded a goal kick and West Germany would go on the reach the final following a penalty shoot out.
After the event Schumacher was named by a French newspaper as the least popular man in France – ahead of Adolf Hitler who came second!
3. Luis Suarez vs Ghana 2010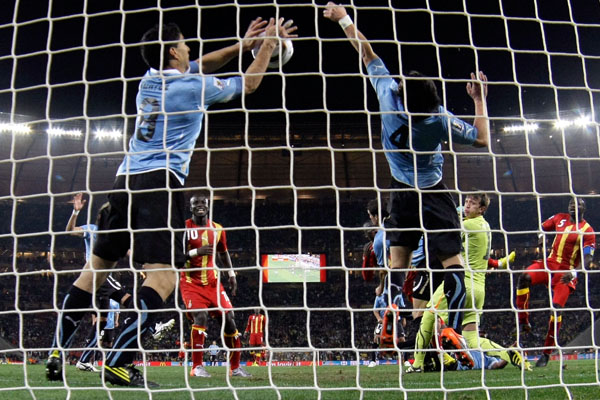 This was the first chance that the world had to sink their teeth into a bit of Luis Suarez-related controversy. Pun intended.
The World Cup in South Africa was the first ever African-hosted tournament and Ghana were the sole representative by the quarter-final stage. They took on Uruguay in the last eight and heading into the final minute the scores were level at 1-1. But then Dominic Adiyiah headed goalwards and Suarez palmed the ball away from the goal line.
A penalty was awarded but Asamoah Gyan's spot-kick hit the crossbar, to the delight of Suarez, and the African nation were eventually eliminated. A whole continent, let alone nation, was enraged but the Liverpool striker said that he would have done it again given the opportunity.
He also admitted that he would have done it to eliminate England this summer. That match passed relatively incident free. However, he did bite a chunk out of Italy defender Giorgio Chiellini in his next match…
2. Rivaldo vs Turkey 2002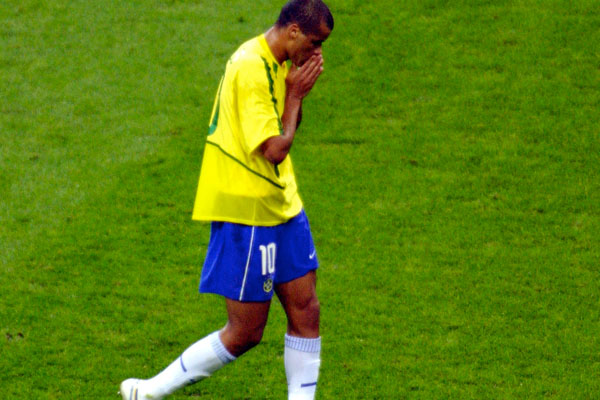 Maybe his head's pain receptors are in his knee? Though I doubt it. This left all spectators opened mouthed and scratching their heads.
With Brazil leading Turkey 2-1 in the group stages of the World Cup, Rivaldo went across to take a corner. Turkish defender Hakan Unsal kicked the ball towards the Brazilian forward, hitting him on the knee, but instead Rivaldo went down clutching his face.
The referee decided to send the defender off, ensuring Turkey ended the match with nine men, and Brazil went on to win the match 2-1. Rivaldo was later fined 11,670 Swiss Francs by FIFA but that would not stop him playing an integral role as Brazil went on to lift their fifth World Cup.
The forward was offered to Charlton Athletic towards the end of the 2012/13 season – can you imagine those kind of shenanigans happening in the Championship?
1. Diego Maradona "Hand Of God" vs England 1986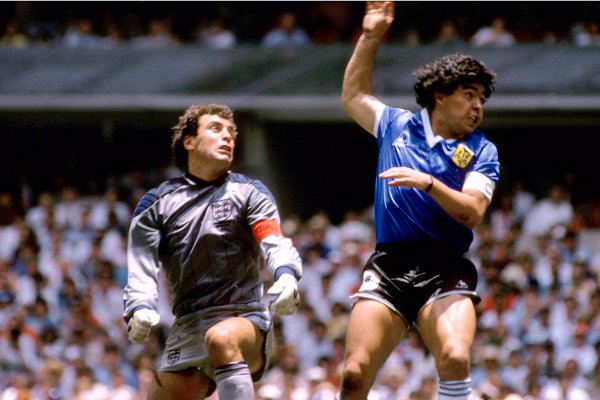 An incident will have to go a long way to be deemed more outrageous than this – especially if you are of an English persuasion.
England took on Argentina in the quarter-finals of the 1986 World Cup in Mexico. The encounter was goalless at half-time but it did not take long for things to spark into life after the break.
As England keeper Peter Shilton came out to collect a high ball into his box, 5ft 5in Diego Maradona leapt in front of him and punched the ball into the net. Somehow Tunisian referee Ali Bin Nasser failed to spot football's most disgraceful ever crime and England would go on to be knocked out.
Maradona made some amends to the world's audience five minutes later, though, as he dribbled beyond five England defenders before slotting beyond Shilton for his second goal of the game.
He had the world on side again but not the English, though.